Singlehanders Report that the Truth Is "Out There"
July 9 - Hanalei Bay, HI
The first two finishers in the 2004 Singlehanded TransPac arrived in Hanalei Bay, Kauai, yesterday afternoon. Al Hughes' Open 60 Dog Bark was first in at 4:13 p.m. (Hawaii time) - for an elapsed time of 12 days and about 9 hours. He was followed not quite an hour later by Chuck Beazell on the Hunter 54 Joe, who currently occupies first on corrected time. It was Hughes' first solo Hawaii race and Beazell's third - and by far the latter's best. No records were broken, however, and the standing monohull record for this race of 10 days, 11 hours, set in 1996 by another Open 60, Wild Thing, was not threatened.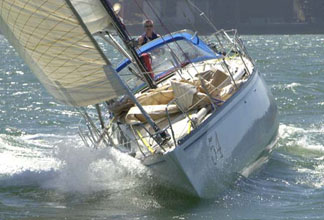 Joe
Photo Latitude/JR
Interrupting the regular programming in Solo TransPac coverage was the sound of champagne popping from the other end of the Hawaiian chain, where Bob Miller's 140-ft carbon schooner Mari-Cha IV obliterated the Pacific Cup record by more than a day, finishing in 5 days, 5 hours. The 'gee whiz' factor is that Mari-Cha started in San Francisco almost a full week after the Solo TransPac racers, and arrived a full day before their first finisher. The modern schooner's 23-man crew also outnumbered the entire solo fleet of 21 skippers. As if that weren't enough, Big Mike Howard told Scuttlebutt that Mari-Cha beat a Matson ship from San Francisco to Hawaii!
Yes, it's apples and oranges. You can't really compare a multimillion dollar boat with professional crew to a bunch of regular guys singlehanding their amateur boats. But you can't really ignore it, either. All of which is not to say that the Solo TransPac'ers are not serious or competitive. There is much written before and after this race about individual accomplishment and camaraderie. But the truth, well, nobody put the truth better than Jim Kellam on the Spencer 35 Haulback, which is still 500 miles out. The 2002 overall winner penned this entry in his log yesterday afternoon:
"Now the 'end game' starts. Sometime today, probably early this evening, the first two boats will finish. All throughout the fleet, calculators will be clicking and pencils being sharpened as everyone figures out what time they will have to finish to beat Joe's time. What has become an idle pastime for most of us will now become an all-consuming passion as more and more boats reach Hanalei Bay. Most everyone, when asked about why they want to do this race, comes up with some variation on the theme of 'just to do it' or 'I like sailing' or 'I want to see the green flash'. Let's face it, to do any of those things, you don't need to be in any sort of organized event. All you have to do is jump in your boat and sail over to Hawaii on your own. So despite what they say, as soon as these folks get out here they sail like maniacs. Everyone, deep in their souls, wants to win."
For updates, positions and log entries, go to www.sfbaysss.org.