The Gloom Is Gone, so Southern California Cruising Is in Full Bloom
July 14 - SoCal
Last call! Looking to get experience on a big cruising cat? Want to get away from the chilly sailing conditions of Northern California? If so, you might be interested in a couple of 'shared expenses' sailing opportunities aboard Profligate in Southern California.
The first will be August 5, 6 & 7 for the Santa Barbara to King Harbor (Redondo Beach) Race. We think it's the most fun race in Southern California, as there are tons of boats, and you sail across the Santa Barbara Channel, down around Anacapa Island, come back to the coast at Malibu, and then across Santa Monica Bay to Redondo Beach. It's about 86 miles, and the last couple of years we've finished around midnight. But what really makes it fun is you get to spend a day before at Santa Barbara, a great town and at her best time of year. And after the race, you're in Redondo Beach for more fun at the club, and for miles in either direction along the beach. It's a totally killer event that makes for a great long weekend.
They say you should never start a voyage on a Friday, let alone Friday the 13th, but we're going to do it anyway for our second 'shared expenses' opportunity. If you want an action-packed weekend that really gets you away - without having to go far - this is it. We'll leave Long Beach at noon, put up the screecher for the sail to Avalon where we'll mess around on the beach, under the bright lights, and spend the night. The next morning we motor a couple of hundred feet off the coast up to Two Harbors, the rugged and rustic little oasis toward the west end of the island. After an afternoon's sail, we'll do a beach barbecue and hit the dance floor under the stars. There are also great opportunities for hiking and other outdoor activities. Catalina is cool! The next day we hoist the chute and set sail for 35-mile distant Newport Beach, arriving about 6 p.m. Hot cat sailing fun in the Southern California sun.
Here are some photos from past Profligate trips to Catalina: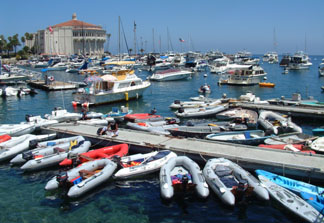 The hub-bub at Avalon during the day. At night, after the daytrippers have gone home, it's a lot more mellow. And the nightlife can be fun.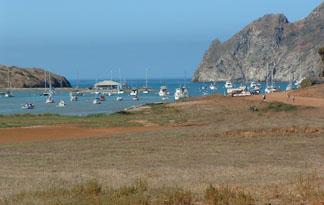 Cat Harbor, near the western end of the island, has a completely different vibe than Avalon.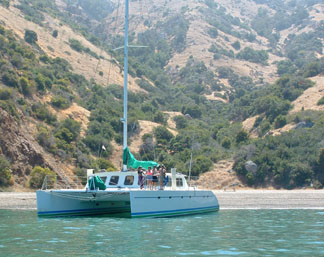 Profligate on the hook at one of the many anchorages between Avalon and Two Harbors.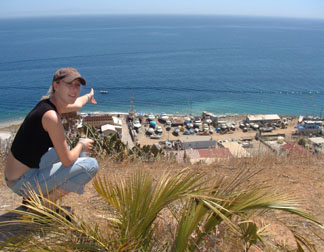 Short hikes can lead to terrific overviews. Lauren Spindler checks out the boatyard near Avalon.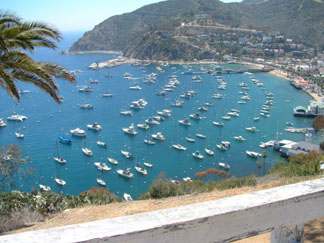 Avalon as seen from above.

Charlie Eckstrom doing 13 knots aboard Profligate on the way from Long Beach to Avalon.
Photos Latitude/Richard